Back to Artists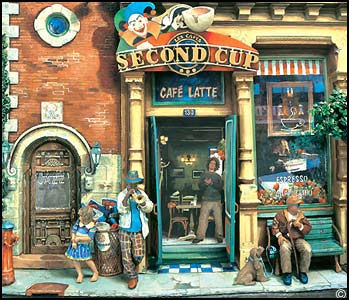 Sylvain, Michel
Available artworks
Prints, Sculpture
Biography
Michel Sylvain are two different artists namely Michel Babeux and Sylvain Cayer represented by The Shayne Gallery in Montreal.
Born in 1947 in Montréal, Québec, Canada, Michel Babeux attented high school in Longueuil. While completing his collegiate and university degrees in Sherbrooke and in Europe, Michel cultivated a vivid interest in arts and architectural design in old buildings at home and abroad.
Sylvain Cayer completed high school and college in Sherbrooke and professional studies in Western Canada. After numerous trips around the world, Sylvain developed a fascination for sculpture and architectural models. With Michel Babeux he created superb sculpture paintings that led to a variety of limited and open editions.
All Artworks
Dépanneur an Coin
13" x 10.5"
Giclée on Canvas
Au Café Lait I
10.5" x 13"
Giclée on Canvas
Rue des Pignons
12" x 20"
Giclée on Canvas
Montreal Panoramique
20" x 28"
Giclée on Canvas
Dépanneur rue St-Louis
13" x 10.5"
Giclée on Canvas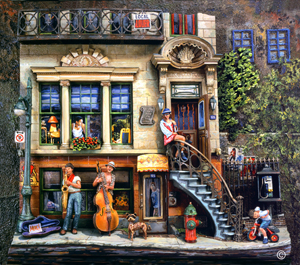 Jazz Duetto I
10.5" x 12"
Giclée on Canvas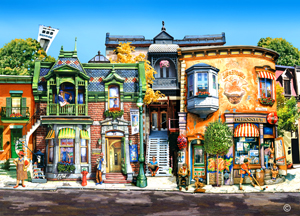 Escaliers de Montréal II
10.5" x 14"
Giclée on Canvas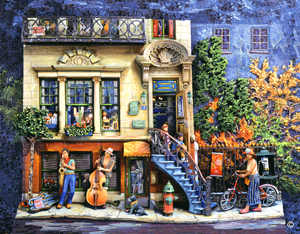 Jazz Duetto II
10.5" x 12"
Giclée on Canvas
Mordicus
10.5" x 14"
Giclée on Canvas
Les Deux Pierrots
14" x 10.5"
Giclée on Canvas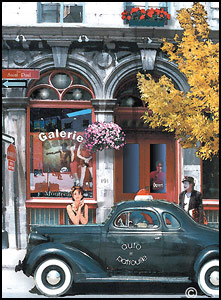 Devant la Galerie
14" x 10.5" Giclée on Canvas
La Mercerie
14" x 10.5"
Giclée on Canvas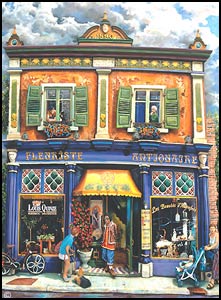 La Maison Rustique
12" x 10.5"
Giclée on Canvas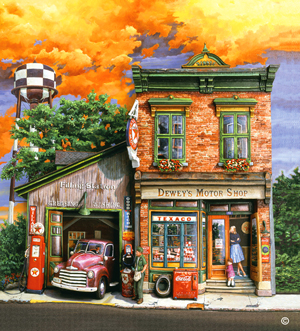 Dewey's Motor Shop
14" x 10.5"
Giclée on Canvas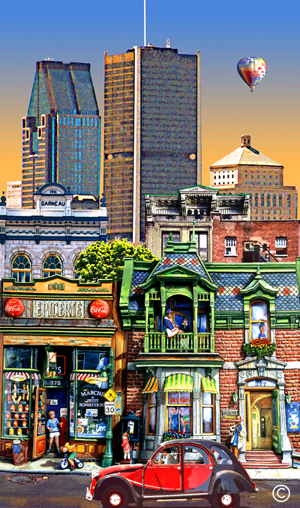 A l'Ombre du Centre-Ville
14" x 10.5"
Giclée on Canvas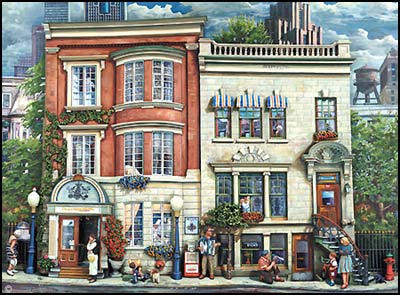 Chez la Mère Michel
10.5" x 14"
Giclée on Canvas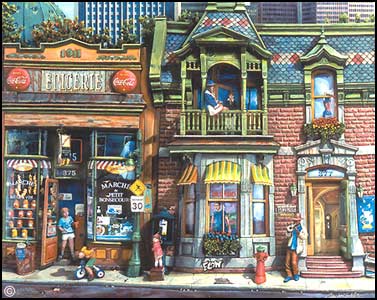 A l'Ombre du 1000
16" x 20"
Giclée on Canvas
Eurosnack
10.5" x 14"
Giclée on Canvas
Chez Maxime
10.5" x 14"
Giclée on Canvas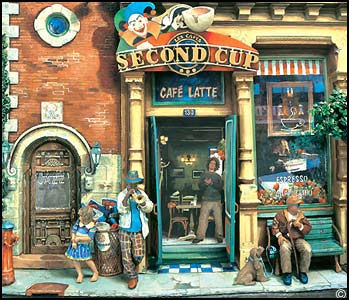 Second Cup III
10.5" x 12"
Giclée on Canvas
Second Cup I
10.5" x 12"
Giclée on Canvas
Marché Bonsecours
14" x 10.5"
Giclée on Canvas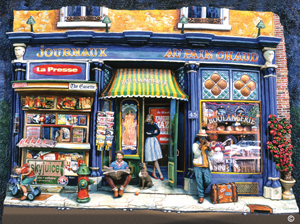 Au Pain Chaud
14" x 20"
Giclée on Canvas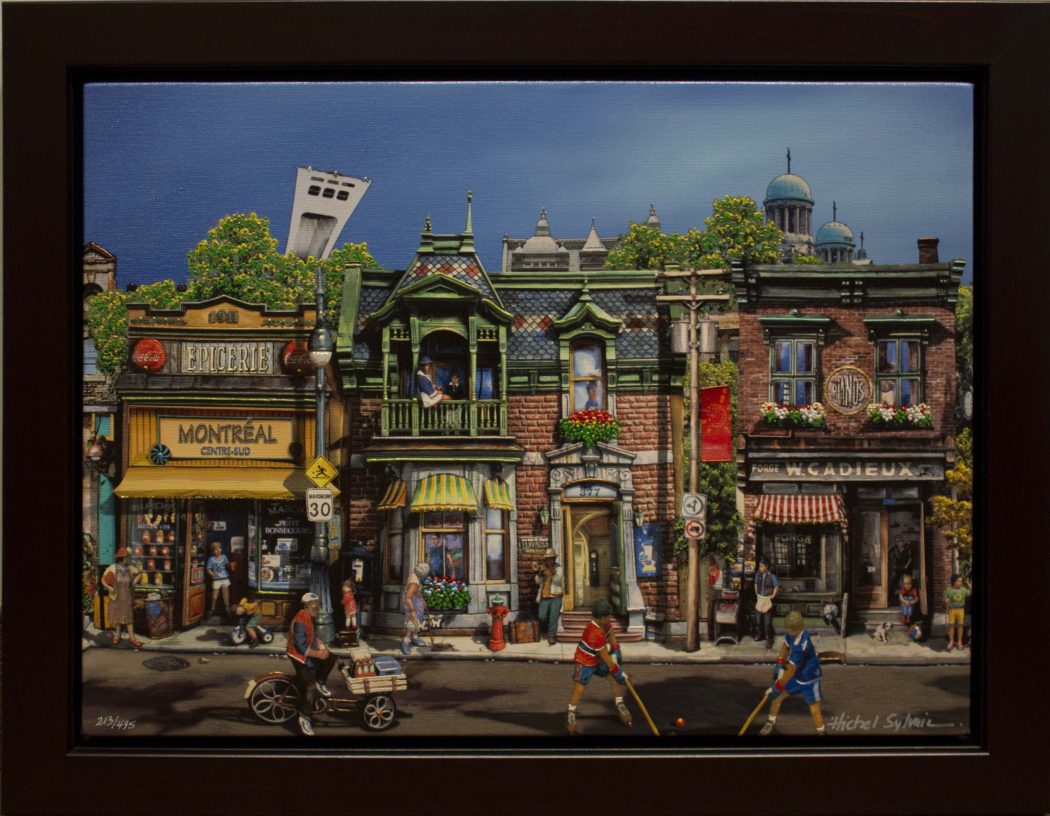 Rue De La Vieille Forge
15" x 20"
Giclée on Canvas
Rue De La Vieille Forge
20" x 28"
Giclée on Canvas
Au Café Lait
14" x 20"
Giclée on Canvas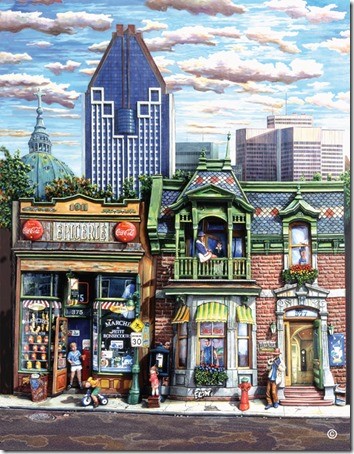 à l'Ombre du 1000
68" x 56" (framed)
3D carved and painted wooden resin
$26,000
Available upon request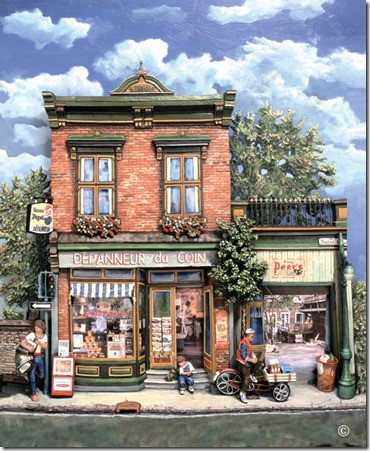 Dépanneur du Coin
54" x 48" (framed)
3D carved and painted wooden resin
$22,000
Available upon request
Second Cup
34" x 38" (framed)
3D carved and painted wooden resin
$14,000
Available upon request